WINTER DRIVING SAFETY BASICS
Posted on: Dec. 24, 2017 in Safety

Winter driving can be tricky for seasoned and newbie drivers alike. The weather can be challenging and unpredictable. It's harder to see, may take longer to stop, and difficult to maneuver, and therefore more likely an accident may occur. Some basic safety practices are even more important in winter than in any other time.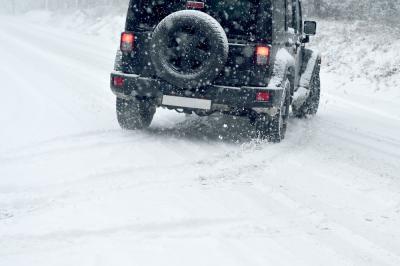 Keep Your Car Stocked with Essentials
You should always keep a basic emergency kit in your car with things such as first aid and a flashlight, but you'll want to add some winter gear such as an ice scraper, a snow shovel, and extra windshield wiper fluid. It wouldn't hurt to carry some sand or salt to help you out of a slippery spot. Don't forget to keep your gas tank at least half full at all times.
Use Caution While Driving
When winter weather is making road slick, your first line of defense is to slow down. Leave extra room between your car and the one ahead of you. In dry weather, you should leave at least three seconds of distance – opt for five or six seconds in bad weather.
Traveling in Bad Weather
If you must venture out in bad weather, know what to do if you get stuck. If your car is safely out of the way of traffic, wait inside it for help. Don't keep the car running for too long – about 10 minutes every hour should be enough to heat the car up without leaving you out of gas too quickly. If you do turn the car on, be sure your tail pipe is clear of snow or the car can fill with dangerous carbon monoxide gas.
Clear Your Roof
If the storm has passed and your car is covered with ice and snow, be sure to clear it before hitting the road. Snow and ice left on cars can become dangerous projectiles as you pick up speed, causing major damage to cars behind you. If you stop abruptly (or even not that abruptly), snow on your roof can slide down your windshield and block your visibility. In some states, driving with snow on your car is illegal and you can be ticketed.
With careful attention to the weather and your surroundings, winter can still be a fun time to drive!
If you're ready for a new car but your credit is keeping you from getting approved, CreditYes can help with our bad credit auto loan program! We can match you with a dealership in your area that will be with you every step of the way. Our service is fast and free. Fill out our secure online application and get behind the wheel of your next car today!